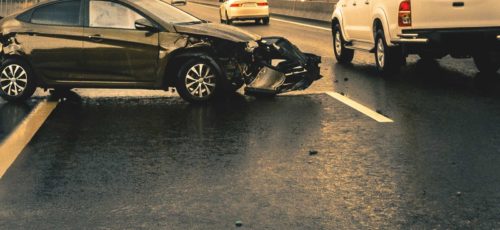 Most practicing attorneys are not often able to handle all types of matters that current or past clients present to them. A personal injury case is a very specialized type of law. If your office or firm refers these cases to us you can do so with the assurance that we will provide excellent attention and professional expertise in the handling of your client's potential claims. Moreover, if we decide to take the case our office will pay you a referral fee for the claim once it is resolved. We have represented clients for more than thirteen years in a firm which primarily focused entirely on personal injury incidents including automobile accidents, dog attacks and slip/fall type injuries. Our main office was located in Sacramento with other offices in Fairfield and Yuba City, but our client reach was much further. I represent clients from throughout the central valley, bay area, and foothill communities, including many current clients from Amador, Calaveras and El Dorado County.
I have acquired a tremendous amount of experience in the personal injury claims process and have had the opportunity to sharpen my skills in litigated cases. Moreover, I have dramatically increased my familiarity with the myriad of medical issues that my clients have experienced in their cases. I have learned that a client's case is only as strong as the medical treatment and care provided to them throughout their recuperation and rehabilitation. Access to quality healthcare is extremely difficult and many of our prospective clients don't initially seek proper medical treatment due to lack of health insurance or money to pay for their treatment. Because of the importance of proper medical evaluation, assessment and treatment, our firm has developed professional relationships with a vast array of medical specialists that may be called upon to provide consultations, examinations or treatment. Our firm may provide our clients access to medical expertise that is critical to their case and crucial to their long-term recovery without requiring any initial out-of-pocket expense to the client.
We continue to remain residents of Amador County and would like to expand our professional presence in the community. While most of your current clients have legal issues unrelated to personal injury, your office may still field numerous queries from current or prospective clients that could benefit from a free phone consultation with my office. This is an opportunity to refer these current or prospective clients to an experienced local attorney that will reward your trust and confidence. As importantly, our firm is amenable to an attorney fee-sharing agreement that will reward your trust and provide an untapped income stream that may help contribute to your advertising budget. Any attorney fee-sharing agreement will comply with California Rules of Professional Conduct 2-200 (A).
My previous clients have benefitted from what I call the "best of both worlds." They take comfort in the fact that we are long-time residents of Amador County with familiarity of the region and easily accessible with a local phone number. However, clients also may take advantage of the resources of our firm when confronted with complex issues in a case such as finding a medical specialist, an expert witness or funding a significant medical procedure like a surgery. When presented with a potential client please contact me at my office so that I may initially speak with you about the client and the fee-sharing arrangement In the future I can provide your office personnel with a convenient brief intake sheet that may be faxed to our office. It is our interest to develop and maintain a successful partnership that will benefit all involved parties.
Practice Areas
Testimonial
The best law firm in Amador County. Extremely professional, thorough, and fun to do business with!
Will B.
Request A Consultation
For a free consultation with a trusted personal injury attorney, call our office
or fill out the questionnaire below and we will get back to you shortly!