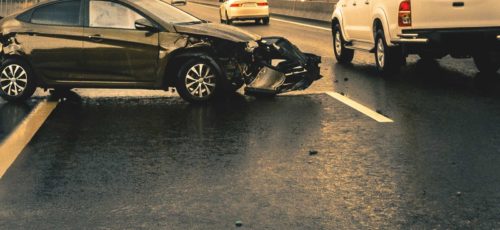 Sutter Creek, California

Common Causes of Motorcycle Accidents in Stockton and Sutter Creek
Motorcycle accidents can be devastating. Even the most experienced and law-abiding rider can end up falling victim to the negligence of the drivers of the passenger vehicles traveling around them, putting motorcyclists at risk in ways that these other drivers may not understand. When motorcyclists are involved in serious accidents, they are at much greater risk of facing life-ending injuries than are drivers of cars and trucks—in fact, motorcyclists are 27 times more likely to be fatally injured in a crash than are drivers of passenger vehicles. If you've been hurt in a California motorcycle accident, find out if you have a right to compensation for your injuries by contacting the Stockton and Sutter Creek motorcycle accident lawyers at Redkey Gordon Law Corp for a free consultation.
Why do motorcycle accidents happen?
Some of the most common reasons for California motorcycle accidents are:
Left-hand turns in front of motorcyclists: Many motorcycle accidents are the result of drivers of cars and trucks either failing to notice an oncoming motorcycle or misjudging its speed and turning left in front of the motorcycle, giving the bike too little time to avoid a crash. These mistakes can result in the motorcycle traveling head-on into the side of the car or swerving into traffic to avoid a collision with the turning car.
Dangerous road conditions: Potholes, loose gravel, construction debris, and bumpy roads can all cause a motorcyclist to lose control of their bike and crash.
Dangerous lane changes: Drivers who do not check their mirrors and blind spots before changing lanes may put motorcycles at risk, especially in California where motorcycle lane-splitting is a legal practice.
Speeding: Excessive speed is a common cause of fatal traffic accidents, as it shortens drivers' reaction time and increases the force of impact when crashes occur.
Getting the money you deserve after a motorcycle accident in Stockton or Sutter Creek
Motorcycle accident victims may have a right to money damages from the negligent drivers who caused their injuries. The Stockton and Sutter Creek motorcycle crash lawyers at Redkey Gordon Law Corp can help. Our experienced motorcycle accident attorneys can file a claim on your behalf for the money you're owed after a crash, handling negotiations with insurers and at-fault drivers for you so that you can focus on your recovery. Contact the seasoned and professional injured motorcyclist lawyers at the Redkey Gordon Law Corporation today for an evaluation of your claim. Call 209-267-1685 for a free consultation; you'll only pay a fee if we recover on your behalf.
For dedicated and effective help filing a claim after a California motorcycle accident, contact the Sutter Creek motorcycle accident attorneys at the Redkey Gordon Law Corporation at 209-267-1685, with additional offices in Stockton at 209-267-4589.
Related Link:
Practice Areas
Testimonial
The best law firm in Amador County. Extremely professional, thorough, and fun to do business with!
Will B.
Request A Consultation
For a free consultation with a trusted personal injury attorney, call our office
or fill out the questionnaire below and we will get back to you shortly!