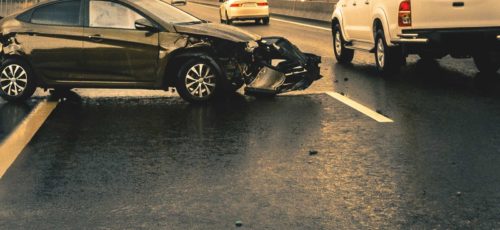 Stockton, California

Stockton Car Accident Attorney
Hundreds of thousands of people sustain injuries in California car accidents each year. Many of these injuries are not serious or life-threatening. But regardless of degree, you have the right to compensation for any injuries you sustained as the result of a driver's reckless behavior on the road.
The Stockton car accident attorneys at Redkey Gordon Law Corp represent victims such as yourself in seeking financial damages from negligent drivers and their insurance companies. We know that even a seemingly minor car accident can leave you with thousands of dollars in unpaid medical bills and lost wages. We will help you in attempting to recover those and other losses attributed to your accident.
California Is a Fault-Based State
Personal injury law varies based on what state you live in. Some states follow a "no-fault" rule when it comes to auto insurance. This basically means that when you are involved in an accident, you are required to first seek compensation from your own insurance company. Only in very limited circumstances are you even permitted to file a personal injury lawsuit against a negligent driver.
California, however, is a fault-based state. In other words, the negligent driver is always responsible for the financial losses suffered by another party to a car accident. As the victim, you do not have to rely on your own auto insurance, if any, when seeking compensation.
At the same time, your own insurance often does play a critical role in protecting your right to compensation. California law requires all drivers to carry auto insurance. But these requirements are for minimums only. Specifically, a California driver need only carry liability coverage of $15,000 per person or $30,000 with respect to personal injury.
So what happens if you are involved in an auto accident and your medical bills and other damages amount to more than $15,000? If the defendant lacks the financial means to pay, or the negligent driver was never identified (as is common in hit-and-run accidents), then you may be able to seek compensation through uninsured/underinsured motorist coverage. Your auto insurer is required to offer you this additional coverage. When applicable, your insurer then "steps into" the shoes of the uninsured or underinsured driver and pays your claim for damages.
Proving Fault in a Stockton, California Car Accident
Sometimes fault for an auto accident is obvious. But in many cases, there may be a dispute. Two drivers may blame each other. Or there may be multiple vehicles involved in a chain reaction. Or it may simply be the case that the person who filed a personal injury lawsuit was themself partly responsible for what happened.
When it comes to proving fault, a plaintiff needs to show three things:
The defendant owed them (the plaintiff) a duty of care.

The defendant negligently breached that duty of care.

This negligence was a substantial factor in causing the plaintiff's injuries.
The "duty of care" in a car accident case usually boils down to a driver's failure to obey traffic laws or other basic rules of the road. It does not necessarily mean the driver was trying to injure someone. A driver who is distracted by their phone and runs a red light violates their duty of care to the other people on the road. If that violation causes an accident in the intersection, the distracted driver is legally at-fault for the accident and any injuries sustained.
If two or more parties, including the plaintiff, may have simultaneously violated their respective duty of care, a judge or jury can apportion "comparative fault" among said parties. Comparative fault does not absolve a negligent defendant. But it can reduce their obligation to compensate a plaintiff.
For instance, say two cars both committed a traffic violation just before colliding with one another. One driver sues the other driver for damages. The jury decides the plaintiff is 30 percent at-fault for the accident. After calculating the full measure of the plaintiff's damages, the defendant's obligation to pay is reduced by 30 percent to account for the plaintiff's comparative fault.
Economic, Non-Economic, and Punitive Damages in a Car Accident
The term damages refers to the financial losses suffered by a plaintiff in an accident. California law divides damages into three broad categories: economic, non-economic, and punitive.
Economic damages describes a plaintiff's out-of-pocket losses. In a car accident, the most common form of economic damages are medical bills. If you do not have health insurance, or if there is treatment that your insurer will not cover, an accident can leave you on the hook for thousands of dollars in hospital and doctor bills. In a personal injury lawsuit, you can recover all of these damages from a negligent defendant. This includes the estimated costs of any ongoing or future medical care that you might require.
Aside from medical bills, the next two most common types of economic damages in car accident lawsuits involve lost income and property damage. The latter usually involved damage to your car. The former, lost income, may take into account both wages you did not earn as a direct result of the accident–e.g., you had to take unpaid time off from work to seek medical treatment–and your estimated loss of future earning capacity. In other words, if your injuries affect your ability to earn as much as you could in your vocation before the accident, you can seek economic damages as compensation.
Non-economic damages are often referred to as "pain and suffering." The idea behind non-economic damages is that some losses are clearly real but impossible to quantify as an out-of-pocket expense. If you experience constant pain following an accident, that is very much a real loss. But how do you put a dollar amount on this? The answer is that a jury is allowed to make a reasonable award of non-economic damages based on its own assessment of the evidence in your case.
Punitive damages are an exceptional award that does not apply in every car accident case. While economic and non-economic damages are meant to compensate you as the victim, punitive damages are intended to punish a defendant for especially reckless or egregious conduct that go beyond simple negligence. In other words, your everyday fender bender is not grounds for punitive damages.
California law states that punitive damages are only justified when the plaintiff presents "clear and convincing evidence" that the defendant acted with "oppression, fraud, or malice." In the context of a car accident lawsuit, this usually means the defendant intentionally tried to injure the plaintiff.
Investigating and Settling a Car Accident Claim
Many accident victims are deterred from seeking legal advice because they fear the potential time and expense of litigation. In reality, this fear of litigation is exaggerated. Most car accident claims we handle are actually resolved through settlement negotiations. This is especially true when the damages are covered by insurance.
Indeed, it is usually–though not always–in everyone's best interests to settle. At the same time, you can often improve your chances of obtaining the best possible settlement by working with an experienced Stockton car accident attorney. Keep in mind, insurance companies deal with thousands of auto accident claims each year. They know how to low-ball an initial settlement offer, particularly when they see a victim who is not represented by counsel.
At Redkey Gordon Law Corp, we can assist you through each stage of the post-accident investigation and settlement negotiation process. This includes gathering evidence, reviewing your medical records, working with experts who can help explain why the accident occurred, and handling all correspondence with insurance companies.
Remember, a lawsuit is only a last resort when all attempts at a negotiated settlement have proven unsuccessful. Of course, if a lawsuit is necessary, we are prepared to stand by your side and fight every step of the way. Sometimes simply filing a lawsuit can bring the other side back to the bargaining table to continue negotiations.
What You Need to Know Following a Car Accident
In the moments following a car accident, you will likely find yourself struggling to keep it together. It is always best to remain as calm as possible. Your first priority should always be to seek medical attention if there is an apparent injury. You should also always contact law enforcement, as the police can prepare an official accident report that can provide valuable evidence later when dealing with insurance or filing a personal injury claim.
After taking these initial steps, you should contact a Stockton car accident attorney as soon as possible. Remember, hiring a lawyer does not mean you plan to file a lawsuit. It simply means you want an experienced lawyer advising you of your legal rights and responsibilities. To speak with a member of the team here at Redkey Gordon Law Corp, click here for contact information.
Practice Areas
Testimonial
The best law firm in Amador County. Extremely professional, thorough, and fun to do business with!
Will B.
Request A Consultation
For a free consultation with a trusted personal injury attorney, call our office
or fill out the questionnaire below and we will get back to you shortly!