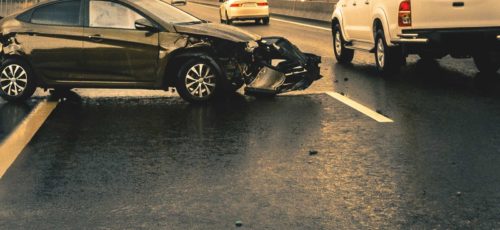 Stockton, California

Common Injuries in California Auto Accidents
On an average day, the most dangerous thing you're likely to do is to get behind the wheel of a car. We might not like to think about it too much, but car accidents can result in serious, or even lethal, injuries. Not only are injuries resulting from car accidents often painful, but they're also costly to treat and can force victims to lose wages when they're unable to go to work. Learn about the most common injuries received by victims of California car accidents, and contact the Stockton personal injury lawyers at Redkey Gordon Law Corp as soon as possible after an accident.
Injuries most common among California motor vehicle accident victims
Injuries to the neck and spine: Perhaps the most common injuries received by motor vehicle accident victims are to the neck and back. Victims of rear-end and front-end collisions are especially vulnerable to spine and neck injuries, even when speeds are low. Research has shown that the effects of cervical acceleration-deceleration, where the body is flung forward and quickly slammed back against the seat, can cause injuries in crashes at speeds as low as 25 mph. Tears and strains to the muscles in the neck can be extremely painful and difficult to treat. More serious injuries such as slipped discs and spinal disc herniation can sometimes result in years of pain or costly surgical procedures in an attempt to repair them.
Traumatic brain injuries (TBI): Whenever the body experiences a forceful impact, there is a risk that the brain can suffer damage. Brain injuries in car accidents are often the result of the brain being slammed against the inside of the skull, causing concussions and other forms of TBI. Brain injuries can range in severity greatly, with symptoms lasting anywhere from several days to a lifetime.
Bone fractures: When accidents are severe, victims may suffer fractures to ribs, arms, joints, or other major bones. Bone fractures suffered by adults are often slow to heal and can leave victims with permanent loss of function or movement. Fracture injuries may rob active victims of their ability to participate in treasured pastimes.
Car Accident Content:
Compensation for victims of Central California car accidents
Fortunately, there is help available for you to get the money damages you need after a California car accident. At the law offices of Redkey Gordon Law Corp, we've dedicated our practice to assisting accident victims in Stockton, Modesto, Lodi, and throughout the region in getting the money they're entitled to after another driver's negligence results in their injuries. Going up against large insurance companies and their gigantic legal departments alone can be intimidating, so don't fight alone. Get help from the Stockton auto accident attorneys at Redkey Gordon Law Corp. Our Personal injury attorneys Stockton will provide you with a free evaluation of your case with no commitment, and we will ensure that your case is treated with the utmost care.
Get Free Consultation at Redkey Gordon Law Corp
For a no-cost consultation on your injury accident claim in the Central Valley of California, contact the dedicated, effective, and compassionate Stockton personal injury lawyers at Redkey Gordon Law Corp at 209-267-1685.
Related Link:
Practice Areas
Testimonial
The best law firm in Amador County. Extremely professional, thorough, and fun to do business with!
Will B.
Request A Consultation
For a free consultation with a trusted personal injury attorney, call our office
or fill out the questionnaire below and we will get back to you shortly!