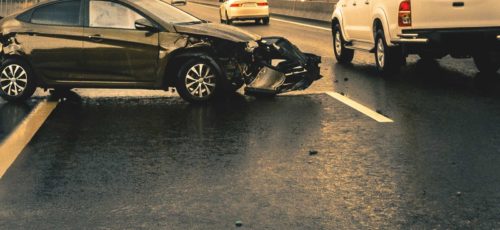 Sutter Creek, California

Accidents in Stockton and Sutter Creek
Each year in the US, car accidents take tens of thousands of lives and cost billions of dollars in medical expenses and property repairs. These accidents are frequently caused by careless or deliberately aggressive behavior on behalf of drivers. Read on to learn about some of the most common causes of California car accidents, and speak with one of the knowledgeable Sutter Creek personal injury lawyers at Redkey & Gordon if you've been hurt in a crash.
What are the most common causes of car accidents?
Aggressive driving
We've all witnessed the crazed driver speeding down the freeway, weaving in and out of lanes, tailgating cars in their path. These driving behaviors aren't just intimidating and scary for other drivers; they're highly risky. One study found that, in 56% of all accidents resulting in a fatality, at least one of the drivers involved displayed an aggressive driving tactic such as speeding, yelling, honking in anger, or cutting off another driver before the crash.
Drunk driving
Alcohol plays a role in a startling share of all accidents. In fact, alcohol is involved in nearly 1/3 of all fatal accidents in the US each year. Drunk drivers are slow to react to roadway conditions and often fail to recognize hazards in the road ahead in time to avoid an accident.
Distracted driving
Many safety experts attribute the rise in fatalities on the road in recent years to the ubiquity of smartphones. While distractions are often caused by phones, drivers can also be dangerously distracted by infant or child passengers, eating while driving, or in-vehicle entertainment systems.
Drowsy driving
Driving while dangerously drowsy does not have the same reputation for being unsafe as does drunk driving, but it can be equally deadly. When drivers receive only slightly less sleep than normal, their accident rate rises. Drivers who have gotten four or fewer hours' sleep in the previous night are as likely to get in an accident as would be someone who had a blood-alcohol level of between .12 and .15% (well above the legal limit in California of .08%).
Car Accident Content:
Receiving the money you deserve after a Stockton car accident
When negligent behavior causes crippling accidents, victims are entitled to compensation for their injuries. The personal injury lawyers at Redkey & Gordon have spent decades fighting careless drivers and insurance companies on behalf of accident victims in Stockton and Sutter Creek. Let our seasoned Stockton and Sutter Creek car accident attorneys help you recover the money you need after an accident so that you can dedicate your time and energy to recovering from your injuries.
If you or someone you love has been injured in Personal injury lawyers in Stockton or Sutter Creek area, find out whether you're a good candidate to file a lawsuit based on your injuries by contacting the knowledgeable and effective attorneys at Redkey & Gordon for a free consultation at 209-267-1685.
Related Link:
Practice Areas
Testimonial
The best law firm in Amador County. Extremely professional, thorough, and fun to do business with!
Will B.
Request A Consultation
For a free consultation with a trusted personal injury attorney, call our office
or fill out the questionnaire below and we will get back to you shortly!